Swiss Chalet: get more out of dining in

In the age of online food delivery services, and as a result of Covid 19, the dining experience has drastically changed for Swiss Chalet. Research also reveals that there is embarrassment that comes with dining at Swiss Chalet, especially for young Canadian diners. Dining in at a Swiss Chalet is associated with old people and is outdated.

This campaign aims to change the perception of this key target group and encourage young Canadians to dine in. Campaign pieces humorously highlight that no matter the restaurant, the quality is always better when you dine in, and that dining at a Swiss Chalet is an unparalleled Canadian experience.

* This was for my OCAD GradEx thesis and I was awarded as one of the top ten 'Masters' in my program for my presentation.




The delivery and takeout packaging is one of the best ways to convince Canadians to start dining in. Playing on the well known "farm to table" movement, these humorous coupons highlight many of the positive things that come with dining in.




The Chalet dipping sauce is one of the most iconic items on the Swiss Chalet menu. These takeout cups remind customers of the importance of having enough sauce, and how when dining in, you'll never have to worry about running out of sauce.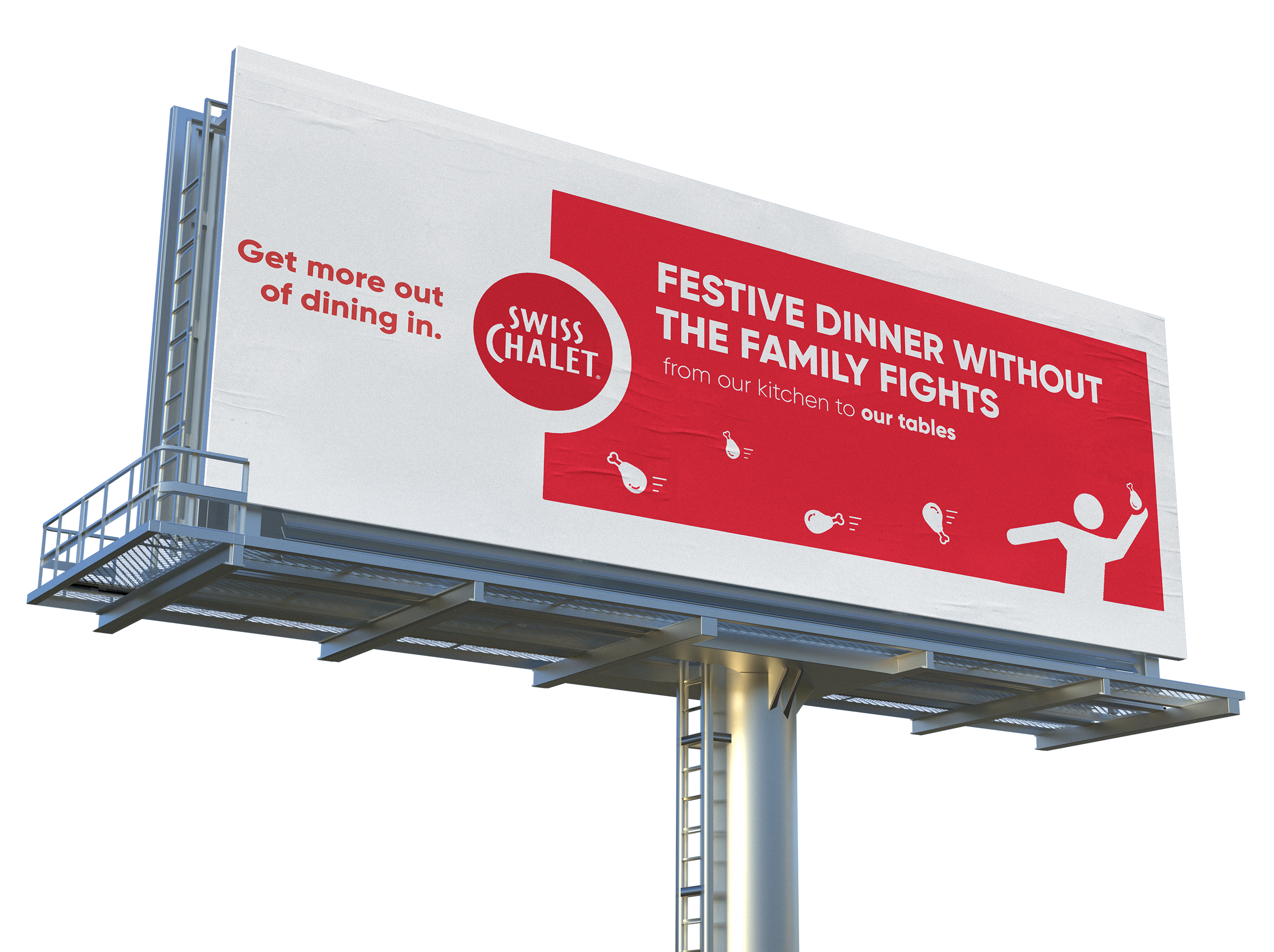 With deals shared through social advertisements and cross promotions with ride sharing companies, this campaign tells Canadians that you truly do get more when you dine in. Instead of going straight home to order online, going straight to the source means getting more from the experience.

CSR INITIATIVE

Since delivery and takeout packaging produces a lot of plastic and waste, I created a corporate social responsibility initiative (CSR) about the sustainability of dining in. The outside of the recyclable delivery packaging explains the goal of repurposing the bags to make tables for Swiss Chalet restaurants. There are examples of artists who have used waste to produce beautiful pieces of furniture. At Swiss Chalet, the environment and diner, both win.







These delivery bags have humorous and witty coupons that explain what you get when you dine in. These coupons can be repurposed into tables and diners get a 20% off coupon for their effort. The coupons also double as a coaster and cutlery holder to use in the restaurant.






DINE & DARE CHALLENGE

Swiss Chalet is home to the strange and very specific dining habits of Canadians. Diners know exactly what they want and how they want it. A Dine and Dare challenge, based on real customer eating habits, embraces this reality and creates buzz with a creative and fun competition.